Leftists in the mainstream media are attempting to bury the truth that the Occupy Wall Street protests are hotbeds of antisemitism.
The antisemitism should not be surprising, as many of the protest organizers have long histories of antisemitic activity.
Courtesy of Mike P, we have this image of a Day of Rage protester sharing his "thoughts" on what is troubling the United States:
Wall St. Jews
Jewish Billionaires
Jews & Federal Reserve Bank
I'm not sure, but I think I see a theme here: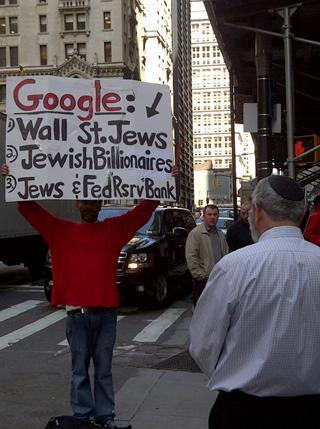 This picture from AmericanPsycho shows more of the intellectual elite of the far left, expressed as well as they can manage: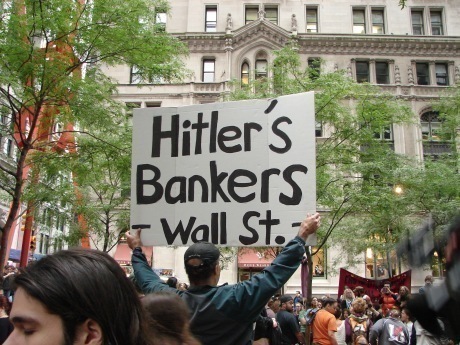 Not to be outdone in the racism department, the Occupy Los Angeles protesters are determined to compete with their national socialist brothers in New York. Here are some Occupy Los Angeles signs photographed by Pajamas Media: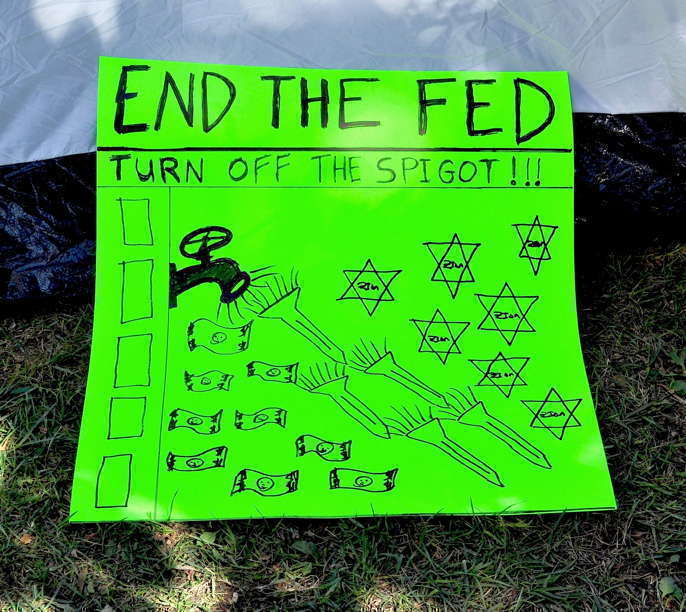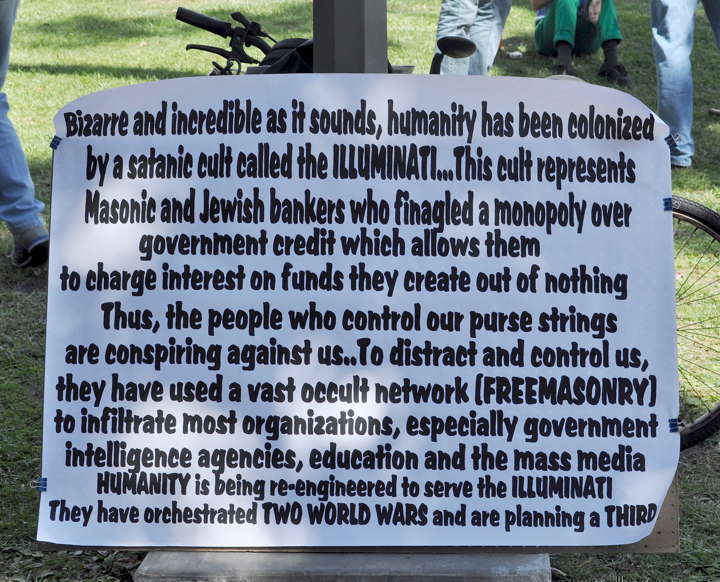 Here is a video from Charles C. W. Cooke of the National Review. This video shows a protester who calls himself "Lotion Man", but whom the NYPD refers to as "Danny Cline." In this video, Danny is screaming "You're a bum, Jew" and "Go back to Israel" at a Jewish man:

Here is another Occupy Wall Street protester explaining to Glenn Beck TV how the Jews control America's "media, finance, and other areas of production."
Here is part two of the interview, with even more racism:
And then we're back to Occupy Los Angeles with government employee Patricia McAllister, who tells Reason TV, "I'm here representing myself but I do work for the Los Angeles Unified School District. I think that the Zionist Jews who are running these big banks and our Federal Reserve — which is not run by the federal government — they need to be run out of this country."
Here is a video from Rebel Pundit showing the crowd at Occupy Chicago cheering Hatem Abudayyeh while he calls for the destruction of Israel.
Here are protesters at Occupy San Diego carrying signs and explaining how the Jews executed the 9/11 attacks on America:
Nathalie Rothschild, a freelance reporter for the Huffington Post, wrote a nice piece on the Occupy Wall Street protests, only to be viciously attacked for being Jewish and for having the surname Rothschild.
Hate Is Not an American Value
The Emergency Committee for Israel has produced this concise and powerful video expressing their concern over this issue:
Antisemitism at these occupations continues. If you know of additional instances of antisemitism, please let us know in the comments to this post.