A well regulated militia, being necessary to the security of a free state, the right of the people to keep and bear arms, shall not be infringed.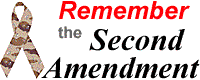 A major political force and America's foremost defender of Second Amendment rights
A grassroots movement of the people, by the people, and for the people. A call to action, a call for self-education, and a 21 gun salute to the many good men and women who fought and died to bring America into being. Helping lawful people maintain their abilities to protect themselves and the people they love effectively from anyone who would do them harm – through legal, private ownership and use of guns.
A no compromise pro-gun organization dedicated to defending and upholding the Constitution of the United States and its founding principles, philosophies and traditions.
The Common Sense Gun Lobby
A no compromise Gun Lobby for the Nation
America's Most Aggressive Defender of Firearms Ownership
Kenn Blanchard's (mostly) black gun club
The only no-compromise gun lobby in Washington
The Second Amendment is the Equal Rights Amendment
Pro-Gun Women on "Full Auto"
Putting the Second Amendment First
Effective self-protection for intelligent women who want help, not hype
Providing Firearms Information to Women World Wide
Armed Gays Don't Get Bashed
A discussion list for Pagans (and anyone else) who believe in self defense and protection of their families
…to promote a better understanding of, and a more active participation in, the shooting sports
Dedicated to promoting a better understanding about our Constitutional heritage to privately own and possess firearms. To that end, they carry on many educational and legal action programs designed to better inform the public about the gun control debate.
The nation's largest nonprofit, nonpartisan coalition of law enforcement professionals, crime victims, and concerned citizens united for justice. Together, we fight for legislation at every level of government that reduces violent crime while preserving the rights of all citizens, particularly the right of self-defense. LEAA strives to keep political debate focused on criminal behavior and criminal punishment, and to communicate the shared opinion of the majority of law enforcement that gun control is not effective crime control.
To provide a political voice for american Police Officers who believe in personal freedoms, liberty, and independence for ALL American citizens.
Encouraging and maintaining the tradition of cops as gun owners and a natural ally of those who prefer to live in a free society where cops trust citizens with their Constitutional Rights, and vice versa
An essay on gun control by Adam Rosenberg
Gun Facts is designed to serve those defending the Constitution of the United States of America, and the Second Amendment in particular. The goal of Gun Facts is to give you a quick reference guide for composing arguments for debates, letters to editors, email to your representatives, and statements to the media.
Well written article on the net results of gun control
From Marathon USA
Stanford study on the effects of right-to-carry laws on crime
Gun control and second amendment issues
The Pulse of the Pro Rights Community
Kenn Blanchard
Reaffirms That Second Amendment Protects Individual Right
Professor Nelson Lund, J.D., Ph.D. of the Virginia Institute for Public Policy
David B. Kopel in the BYU Law Review
David B. Kopel
Robert Dowlut
Richard E. Gardiner
Professor Stephen P. Halbrook in the Valparaiso Law Review
Sanford Levinson in the Yale Law Journal
Professor Eugene Volokh in the California Political Review
From Constitution.org
Stephen P. Halbrook
Amicus Brief In US v. Emerson
Robert Dowlut
Stephen P. Halbrook in the George Mason Law Review
Stephen P. Halbrook in Law & Contemporary Problems
David T. Hardy in a Report of the Subcommittee on the Constitution of the Committee on the Judiciary, United States Senate
University of Chicago
Dr. Stephen P. Halbrook's Response To Violence Policy Center's Meritless
and Specious Complaint Against Attorney General John Ashcroft
Jon Dougherty at WorldNet Daily
Nearly 15 megabytes of historical and contemporary online documents
Detroit resident General Laney is the founder and prime mover behind a little publicized organization known as the National Black Sportsman's Association, often referred to as "the black gun lobby." Laney pulls no punches when asked his opinion of gun control: "Gun control is really race control. People who embrace gun control are really racists in nature. All gun laws have been enacted to control certain classes of people, mainly black people, but the same laws used to control blacks are being used to disarm white people as well."
Gun Control Facts
In 1929, the Soviet Union established gun control. From 1929 to 1953, approximately 20 million dissidents, unable to defend themselves, were rounded up and exterminated.
In 1911, Turkey established gun control. From 1915-1917, 1.5 million Armenians, unable to defend themselves, were rounded up and exterminated.
Germany established gun control in 1938. From 1939 to 1945, 13 million Jews, gypsies, homosexuals, the mentally ill, and others, who were unable to defend themselves, were rounded up and exterminated.
China established gun control in 1935. From 1948 to 1952, 20 million political dissidents, unable to defend themselves, were rounded up and exterminated.
Guatemala established gun control in 1964. From 1964 to 1981, 100,000 Mayan Indians, unable to defend themselves, were rounded up and exterminated.
Uganda established gun control in 1970. From 1971 to 1979, 300,000 Christians, unable to defend themselves, were rounded up and exterminated.
Cambodia established gun control in 1956. From 1975 to 1977, one million "educated" people, unable to defend themselves, were rounded up and exterminated.