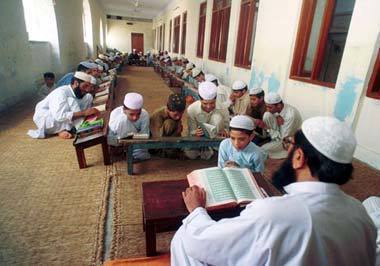 Google Trends is an interesting service which lets you view aggregate data regarding popular searches on the web. You can see what topics are hot, you can compare the search volumes of various topics, and you can see what countries are searching for various terms.
That last feature produces some interesting results when you analyze pornography searches, because it allows us to see what types of pornography are preferred by various nations, cultures, and religions.  Let's look at some real data regarding some very disturbing search terms.
You can click any of the links above to view current search data, or to conduct your own searches. Don't worry, there are no pictures.
Keep in mind that the search volumes from Islamic nations would be even higher if the governments of most of those nations did not maintain large firewalls preventing their citizens from accessing huge portions of the Internet. For example, WikiIslam is unreachable from Pakistan. Also keep in mind that many of the citizens of Islamic nations do not have Internet access and that many who do are not literate enough in English to conduct English language web searches. The numbers you see are generated by a very small percentage of the population of the Islamic nations represented.
What is it about Islam that causes it's adherents to seek out such… odd forms of pornography?  Most of the terms listed above refer to sexual practices which are considered both mental illnesses and serious crimes in the civilized world.
The trouble dates all the way back to Muhammad, the founder of Islam.  Muhammad married a six year old girl, molested her for three years, and then started raping her when she was nine years old.  Muhammad also led or commanded raids of neighboring villages to take slaves and then promoted the use of captured women as sex slaves.  This was done to reward his men for participating in the raids and to recruit additional men for future raids.  Both of these behaviors are documented in the Hadiths which record the life of Muhammad and make up the majority of Islamic religious texts.
When these behaviors are undertaken by the founder of a religion and are supported by the religious texts which all adherents of the religion must follow — how can we as civilized people expect the situation to improve?
Will.Spencer