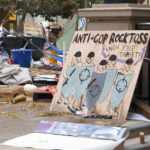 Violence by Occupy Wall Street protesters has spread to demonstrations across the nation, with thousands of rioters arrested and dozens of police officers injured. Ed Mullins, president of the Sergeants Benevolent Association, explained "New York's police officers are working around the clock as the already overburdened economy in New York is being drained by 'occupiers' who intentionally and maliciously instigate needless and violent confrontations with the police." More than twenty New York city police officers have been injured by the protesters.
Here is a photo of Felix Rivera-Pitre, an HIV-positive protester, assaulting a New York city police officer: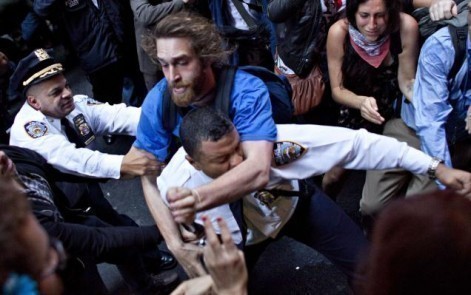 AnkaKarewicz posted this photo from Occupy Oakland, showing that the event organizers were training the protesters how to assault peace officers: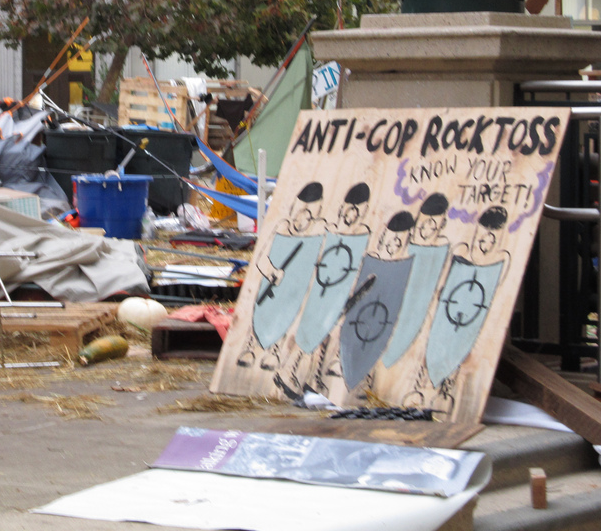 Here's a photo posted by @ReadyAimShoot of a protester at Occupy Oakland carrying a sign that says "All My Heroes Kill Cops":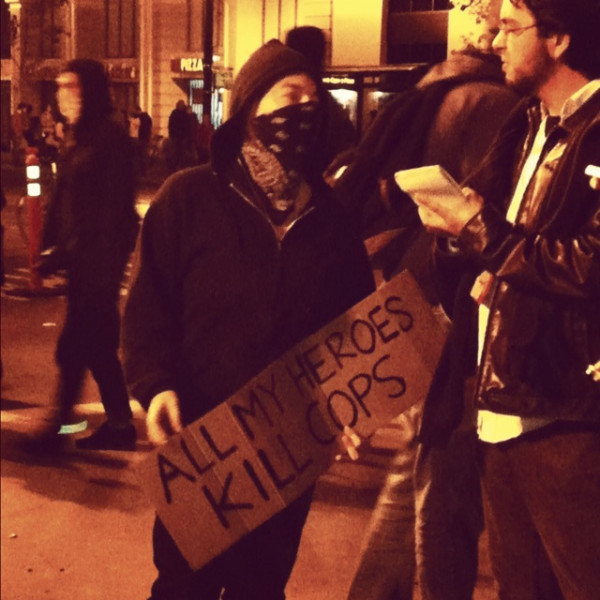 Here is a video of an Occupy Oakland protesters admitting that protesters were pelting the peace officers with bottles and rocks before the police were forced to use tear gas:
The protesters at Occupy Phoenix have been distributing a leaflet titled "When Should You Shoot a Cop" which advocates the murder of law enforcement officers.
Protesters at Occupy Boston assaulted a young female member of America's Coast Guard by spitting at her and throwing a bottle at her.
The Boston police are investigating threats made to their officers by Occupy Boston organizers, protesters, and sympathizers.
A protesters at Occupy Wall Street was arrested by police after he threatened to stab reporter John Huddy. The protester, Dustin Taylor, of Millerburg Ohio, was charged with grand larceny, menacing, criminal possession of a weapon, and harassment.
New York police also arrested a man for making death threats against a woman, because she reported an assault to the NYPD. The protester, Hasan Castillo, of East Orange New Jersey was arrested, but police as still searching for two accomplices. They men apparently told the woman "You had our friend arrested — we're going to kill you. Watch your back."
This speaker at Occupy LA explains that non-violence will not work and that violence is necessary to achieve the Occupiers goals:
It isn't only that the protesters are engaging in violence, or that the organizers are encouraging violence. To make matters worse, the organizers are discouraging event participants from reporting violence and other crimes to the police as part of their media management strategy. Victims of violence, including sexual assault, are being pressured to let these crimes go unreported so as to prevent media coverage of these incidents. One police officer described the grim situation in Zuccotti Park, "There is a lot of infighting in the park. There is one part of the park where they won't even go at night."
Violence at Occupy Wall Street

,
Will.Spencer